Epping postman Mark Cozens admits stealing mail and selling on eBay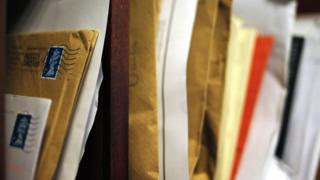 A postman has admitted stealing £16,000 worth of letters and parcels and selling the contents on eBay.
Mark Cozens, 47, of Park Close, North Weald, Essex, pleaded guilty to six offences, including stealing a tax disc - which he displayed in his own car.
His thefts were uncovered when customers in Epping complained about missing mail, Chelmsford Magistrates' Court heard.
He will be sentenced at Chelmsford Crown Court at a later date.
During the hearing, magistrates were told Mr Cozens - who had been working as a postman for Royal Mail for 28 years - started stealing items in April 2012.
Between then and April this year, he tried to sell the contents of parcels online and stole mail containing thousands of US dollars.
Caught on camera
When the alarm was first raised about the missing items, there was no concrete evidence that Mr Cozens was involved, the court heard.
But he was later captured on newly-installed CCTV cameras, which showed him going in to the office when he should not have been.
Prosecutor Laura McKennon told the court Mr Cozens was seen taking a package of dollars, which had been left unattended by a colleague, hiding it and then retrieving it later.
Mr Cozens admitted what he had done when interviewed by police in April 2014.