Canvey Island floods down to rainfall not drain pumps, report says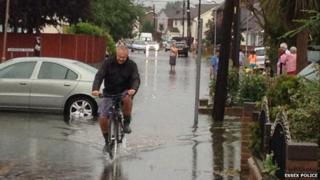 Widespread flooding on Canvey Island was caused by "sheer volume of rainfall" rather than a failure of the drainage pumps, a report has concluded.
About a million cubic metres of water fell in four hours on 20 July, badly affecting the island in Essex.
A flood investigation report said the "exceptional intensity" of rain was to blame, not poor maintenance of drain pumps.
The report called for government funding to improve infrastructure.
But it concluded that even with a clear drainage system and "substantial and widespread improvements to the capacity", the severe flooding would still have happened and would occur again in the future.
The report was produced by Essex County Council as a "lead local flood authority" under the Flood and Water Management Act 2010.
Its authors said the island's flatness and complex drainage system meant it would always be difficult to protect it from flooding, even when the rain was less heavy than on 20 July.
They said "given the unique nature of the drainage system and the scale of investment needed", government funding would be required if significant improvements were to be made.
Conservative Castle Point MP, Rebecca Harris, said she would do "all she could to fight for this request for funding from the Government to go forward".
"It is clear that parts of Castle Point have suffered from decades of local underinvestment in the drainage infrastructure," she said.
The report makes 13 recommendations on ways the impact of any similar rainfall could be limited, in addition to securing government funds.
These include a better understanding of the island's drainage system, and that improved partnerships between the agencies involved would help to reduce the flood risk.
The report also encouraged better communication between partner agencies, including Castle Point Borough Council, the Environment Agency and Anglian Water.