Essex council says 'black is best' in green tarmac row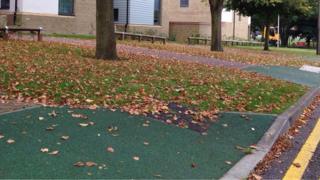 A newly-built road will not be maintained with public money because it has been made with green tarmac, a council said.
Colchester Borough Council approved the green tarmac in Catchpool Road, but Essex County Council wants it changed.
Conservative county councillor Rodney Bass said: "Black is best and black is what it will be."
Liberal Democrat MP for Colchester, Sir Bob Russell, said the county council had made a "ludicrous decision".
Sir Bob, who lives in Catchpool Road, said the tarmac, used to create dropped kerbs for new houses, had been in place for several months.
"There's no logical reason for them to want to change it to black," he said.
Colchester Borough Council agreed with housing developers that "a small section" of the tarmac should be green.
"We feel this is in keeping with the local area and the material provides a long lasting, appropriate surface," said Colchester councillor Anne Turrell.
But Mr Bass, who is the council's cabinet member for highways, refused to adopt the green tarmac.
"Neither would we accept yellow, red or even my favourite colour - true blue," he said.
He said the local authority would only adopt the road if the tarmac was black.
Mr Bass said it was a matter for Colchester Borough Council and the house building contractor to sort out.
"I think Sir Bob is just a bit too close to this issue," he added.
When new roads are built, they can be adopted in an agreement between the developer and a council under section 38 of the Highway Act 1980.
Essex County Council's decision means Catchpool Road residents are responsible for maintaining the tarmac and cutting the grass around it.