Regina to start new Harwich to Esbjerg ferry service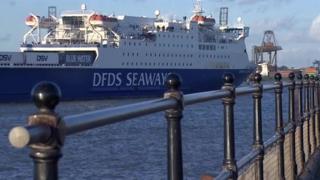 A shipping company has announced it will bring back a ferry service between England and Denmark after its rival pulled out.
DFDS said it could not make the route pay and its last ferry left the Essex port of Harwich for Esbjerg on Sunday night.
The Regina Line plans to start the service from Harwich next Easter.
Regina said "it was not a large company with many unnecessary employees" and could offer low ticket prices.
Passenger numbers on the route fell from 300,000 a year at their peak to 80,000.
Operators face competition from low cost airlines.
Regular travellers included passengers with relatives in Denmark or people taking caravan and motoring holidays in Scandinavia.