Clacton by-election: GP shortage causing concern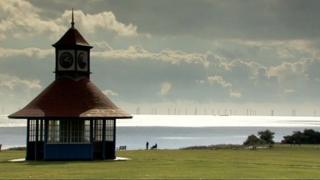 Voters go to the polls on 9 October in the Essex by-election prompted by Douglas Carswell's defection from the Conservative Party to the UK Independence Party. So what issues are likely to be on the minds of voters?
The Tendring district of Essex has the highest proportion of pensioners in the East of England, with one in three people aged 65 or over.
The area, which includes the towns of Clacton and Frinton and has a population of 67,000, also has higher rates of heart disease, cancer, hypothyroidism and obesity than the national average.
So, it follows health is likely to be a major election issue, especially because of the difficulty in attracting GPs to the area.
Some surgeries in the constituency have a reputation for long waiting lists and rely on the use of locums, rather than permanent GPs.
Locums usually work in place of a regular doctor when he or she is absent, or when the practice is short staffed.
So what do the candidates have to say about it?
Mr Carswell described the topic of health as "the single biggest issue" he is focussing on.
"I've pushed local NHS bosses to adopt a scheme where new doctors get a bonus if they come and work in the area and stay for more than two years," he said.
"I've taken the initiative, but have had no support or help from Whitehall officials who are complacent and don't recognise it as a problem."
---
A few facts about Essex's 'Sunshine Coast':
---
Other residents have complained about not being able to book appointments, or queuing around the block to get to see a doctor.
"It is a really tricky problem," said the Green by-election candidate, Chris Southall. "We have to try to make the facilities here more attractive to doctors.
"UKIP is opposed to immigration, but a lot of GPs weren't born in England. It's an illustration of how dependent we are on people from other countries."
Independent candidate Charlotte Rose said: "Waiting times for appointments need to be appointed on a priority basis.
"I feel that the free NHS helpline should be utilised for this to determine the urgency of the patient rather than having a telephone receptionist."
Another independent candidate, Dr Bruce Sizer, said he decided to run in the by-election because of the importance of health issues.
"It's a very real problem. I'm a cancer consultant at Colchester Hospital, and I know there's concern about the number of locum doctors used in GPs' surgeries around the Clacton area," he said.
"We need good primary healthcare services to support people."
Labour candidate Tim Young described healthcare provision as "one of the most important issues for people on the doorstep, in particular the lack of GPs and the fact that many GP lists are closed".
"Only Labour has the answers to these problems," he said, referring to the party's pledge everyone will have the right to see a GP within 48 hours, and there will be 8,000 new GPs to fulfil that pledge.
Andy Graham, the Liberal Democrat candidate, agreed there were not enough GPs.
"This is a situation which has built up over many years and needs addressing now," he said.
He was concerned about how the existing surgeries would cope if new housing were to be built.
Howling Laud Hope, the Monster Raving Loony Party's candidate, said he thought "a better standard of living" would be reached if more GPs came to the area.
"The standard of healthcare would be much better than it is now," he said.
The Conservative candidate, Giles Watling said he is focussing his attentions on the issue.
"Attracting more doctors to the area is a key plank of my 7 point plan for Clacton, Frinton and Walton," he said.
"We are seeing some progress under this Government with 5,000 GPs being trained across the country.
"I will continue to lobby the part of the NHS that deals with this - NHS England - to make sure Essex is a county that GPs come to settle in."