Mid Essex cuts NHS fertility funding for specialist treatments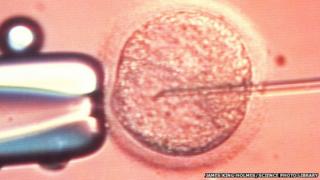 Funding for specialist fertility treatments has been almost completely removed in parts of Essex.
The Mid Essex clinical commissioning group (CCG), which covers Chelmsford, Maldon and Braintree, has made the decision to save money.
Funding for services including IVF will cease, but ill patients facing treatment-induced infertility may have sperm and embryos frozen for later use.
A Chelmsford fertility clinic described the news as "devastating".
"The impact of this decision will undoubtedly cause immense heartbreak to many within our community," a Simply Fertility spokesman said.
The move means most people in the Mid Essex area who want fertility treatment will have to pay to go private.
---
How does specialist fertility funding work?
•Infertility is "when a couple cannot get pregnant (conceive), despite having regular unprotected sex", NHS Choices says. It affects about 3.5 million people in the UK.
•The decision to fund IVF and other specialist fertility treatments is made by clinical commissioning groups for the areas they represent.
•Guidelines issues by the National Institute for Health and Care Excellence last year recommended IVF treatment for eligible women who had been unable to conceive for two years, one year earlier than previously recommended.
---
The CCG's board members said they were supporting the policy "with heavy hearts"
Chair Doctor Caroline Dollery said: "This is tough. None of us would wish to be here, but we have to be accountable for remaining within the financial envelope".
The Mid Essex CCG said about £750,000 was spent each year with specialist clinics to help up to 100 people in its area.
Finance warning
In a warning about finances issued during the summer, health bosses said the cost of caring for patients in Mid Essex was greater than the amount of money available.
The eventual aim is to balance the books by saving £8m a year by April 2015, the CCG said.
But it said it still expected a deficit of £15.7m this year on its £406m budget.
The fertility treatment policy will be reviewed on an annual basis.
The decision does not affect funding for simpler forms of fertility treatment, such as certain surgical procedures or medicines.