Multiple sclerosis patient says getting Sativex is 'postcode lottery'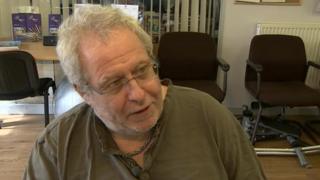 A multiple sclerosis patient has complained of a "postcode lottery" in the funding of a drug to help with his symptoms.
Sativex is not considered cost-effective and is not routinely funded by health bodies in England.
Philip Grace, 58, from Great Tey in Essex, has been paying privately to get the drug, which cannot be prescribed by his GP.
He was told it might be funded on the NHS if he lived elsewhere.
'Huge impact'
"My doctor used the term 'postcode lottery' to describe my situation. I know other people in Essex who take it under NHS prescription," he said.
Diagnosed with MS 13 years ago, Mr Grace said the condition has had a huge impact on his movement.
He said: "Before I started taking Sativex, walking felt like trying to walk through water. It was like my body was fighting itself.
"I would also have really bad spasms during the night, which would mean I couldn't sleep. Nowadays, I still don't have much control over my legs, but my strength is coming back.
Sativex helps with muscle spasms and is used by patients when other treatments are ineffective. It was the first cannabis-based medicine to be licensed in the UK.
'Cost effectiveness'
In August, the NHS in Wales announced it would fund the medicine, following an appraisal by the All Wales Medicines Strategy Group.
But in draft guidance published by Nice (National Institute for Health and Care Excellence), the drug was not considered to "represent cost-effectiveness".
The Mid Essex Clinical Commissioning Group, which funds health services in Mr Grace's area, said it did not routinely fund Sativex, but patients could be referred for "exceptional funding" by their GPs.
Mr Grace said his referral was made in July, but he is yet to receive a reply.