Clacton by-election: UKIP's Roger Lord hits out at Nigel Farage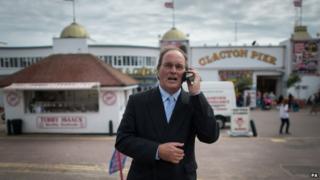 The UKIP politician overlooked as the party's candidate in the wake of the defection of Tory MP for Clacton, Douglas Carswell, has accused Nigel Farage of "turning my career to dust".
Mr Carswell's defection to UKIP last week triggered a by-election for his seat, due to take place on 9 October.
Roger Lord, who thought he would be the UKIP candidate for next year's general election, has resigned from the party.
"I don't feel you can be part of a team that doesn't act as a team," he said.
'Crushed me'
Mr Lord. who has also resigned as a councillor on Essex County Council - a role he described as "untenable" - added: "There's no need to hang around now and scrap in pathetic fights."
He claimed UKIP leader Mr Farage had "crushed me, made me look an idiot, turned my career to dust".
Mr Lord said he had been given no warning about Mr Carswell's decision.
"I was speaking to Nigel Farage three weeks ago, talking about my plans in Clacton, what I was intending to do," he said.
"He knew what was going to happen and he didn't flinch."
A UKIP spokesman said Mr Lord had never been the by-election candidate for Clacton.
"He can best serve the party's and the county's interests by standing behind the decision of the national executive committee," he said.