Dale Farm traveller eviction council in search for new sites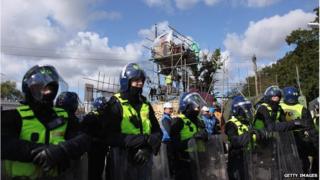 A council that spent more than £7m evicting travellers from an illegal encampment is now looking for about 30 new pitches for gypsies.
Basildon Borough Council evicted 86 families from the Dale Farm site near Basildon in 2011.
But the Conservative-run authority has now begun a six-week project asking landowners to suggest new sites.
Council leader Phil Turner said the authority might have considered Dale Farm had it been suggested now.
The council has been told by government it needs about 30 new pitches by 2016 and more than 120 in total within 20 years.
Mr Turner told BBC Essex the current project and the Dale Farm evictions were totally separate because Dale Farm involved clearing "an illegal site".
"If it had been around this time, then we may have been able to consider those sites.
"But unfortunately the travelling community did not want to wait until this point in time."
Mr Turner defended the decision to evict travellers three years ago.
"You've got to be careful you don't come down on the side of expediency rather than legality."
Asked whether the now-cleared land might be considered for traveller occupation, he said there was "a question of ownership" concerning the land because the council was still trying to recoup the costs of the 2011 evictions.
"We are looking at smaller sites of about 12 pitches and not those massive conurbations," he said.
Matthew Brindley, policy manager at the Traveller Movement, said: "Dale Farm was good for no-one.
"But it (Dale Farm) was the result of under provision not just in Basildon but in the wider Essex area.
"A lot of the families there were there through necessity."