Illegal Mountnessing woodpile to burn for seven days more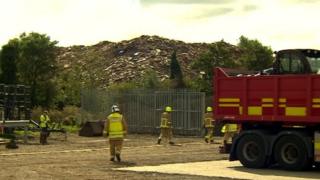 A blaze in a 50ft (15m) high woodpile on farmland will be tackled by fire crews for at least another seven days, the Essex fire service has said.
The fire, on land near Thoby Lane in Mountnessing near Brentwood, has been burning for more than 10 days.
Firefighters estimate there is about 5,000 tonnes of wood in the pile, which also contains other unknown materials.
Residents were advised to keep windows and doors shut and, although the smoke is not dangerous, it is unpleasant.
Crews have been at the site 24 hours a day since Monday 18 August.
About 2,000 local residents are affected by the blaze which is said to be in "illegal woodpile".
"The site operator has been warned not to accept any more waste on site as it has been deposited illegally, and against the conditions of their permit," an Environment Agency spokesman said.
"We understand the frustration of local residents and we will continue our action against the operator."
Heavy rain washing through the site has also caused water contaminated by its use to extinguish the blaze to seep into the river Wid.
Environment Agency officers are working with Essex County Fire and Rescue Service "to minimise any potential damage to the environment".