Youths held over Southend's Alexandra Yacht Club fire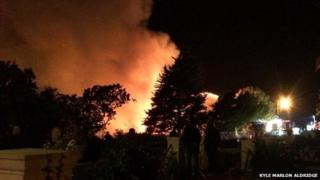 Two teenage boys have been arrested after a fire completely destroyed a derelict yacht club on the seafront at Southend-on-Sea.
Fire crews were called to Alexandra Yacht Club, Clifftown Parade, just before midnight on Saturday.
About 30 firefighters tackled the blaze at its height.
Two boys, aged 16 and 17, both from Westcliff, were arrested on suspicion of arson. They were released on police bail until 12 September.
The were arrested after being stopped by police in Westcliff at 03:00 BST on Sunday.
In November, Alexandra Yacht Club temporarily relocated, following a report which showed the building, which is more than 100 years old, had structural problems.
The clubhouse was due to be demolished.