Essex Police misconduct cases: One officer sacked, another suspended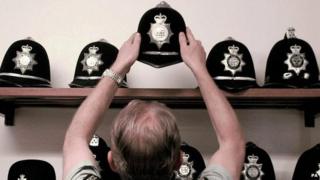 An "experienced" police officer has been sacked for misusing intelligence and number plate recognition systems.
A misconduct panel found the Essex Police sergeant, who worked in Grays, had breached expected standards.
In a separate case, an officer admitted accessing personal data on police computers and abusing information given to him by members of the public.
PC Stephen Tilley, who is currently suspended from his role, pleaded guilty to misconduct in a public office.
The offences happened between May 2012 and June 2013.
He will be sentenced at Ipswich Crown Court at a later date.
'They trust us'
A misconduct panel involving the police sergeant was chaired by Assistant Chief Constable Matthew Horne.
The panel was told the sergeant had also instructed officers to carry out duties with no policing purpose.
He was dismissed from the force for gross misconduct.
"We know that, in policing, information and intelligence can be readily accessed," Mr Horne said.
"The people of Essex have every right to expect us to use this information to keep them safe. They trust us to do so.
"To misuse police information in this way strikes at the very heart of policing by consent," he added.