Dovercourt beach closed for wartime bomb search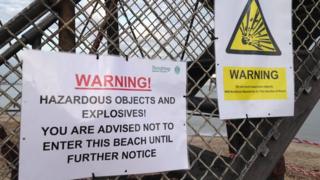 An Essex beach has been closed for at least two days as a sweep is carried out to search for unexploded World War Two bombs.
A 100-yard (90m) section of the beach at Dovercourt has been sealed off after several wartime grenades were found last weekend.
Tendring District Council said a full search was being carried out.
A private firm will carry out the searches. If nothing is found, the beach is due to reopen on Saturday.
Another grenade was found near West End Lane on Saturday, while three others were found near Lower Marine Parade in Dovercourt in July.
The beach will be swept during the daylight low tides on Thursday and Friday.
The council said the beach would remain closed if anything was found.
Council officials said more sweeps were likely to be carried out after future rough tides in case those had caused the ordnance to be churned up and brought to the surface.