Essex Police cost-cutting 'led to sick leave rise'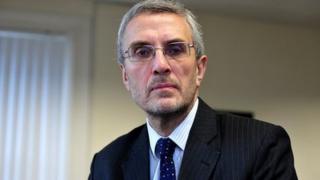 A police and crime commissioner (PCC) has said cost-cutting had gone too far and had led to high levels of sickness among officers.
Nick Alston, PCC in Essex, said the number of police officer duty days lost to anxiety, depression or stress was "worryingly high".
Essex Police was set a target of making £42m savings to its annual budget of £262m two years ago.
Mr Alston said occupational health and physiotherapy services had been hit.
'Well-paid career'
"It is my judgment that, over the past few years, cost-cutting measures went too far in the area of occupational health and access to physiotherapy services," he said.
The Home Office said policing could be "dangerous and stressful" and it was important officers on sick leave received "appropriate support".
"Police officers do a vital job and policing remains an attractive and well-paid career, with a pension that is among the best available," said a spokesman.
"This is reflected by the high application rates for police officer roles and the fact that fewer officers leave their job compared to both public and private sector."
The spokesman said it was up to chief constables, working with PCCs, to ensure the "welfare of all officers and staff".
Mark Smith, chairman of Essex Police Federation, said: "The government is expecting more for less and that's at the expense of officers being run into the ground.
"Stress-related sickness is going to go up. I wish this had been recognised sooner.
"We didn't join the police force to be rich, and you're not going to be rich being a police officer; we want to help the public."
Job cuts
Officers in the county took an average of 12 sick days in each of the last two years. In 2009 to 2010, the figure was 7.7 days per officer.
In 2009 to 2010, when the force had more officers, 5,132 duty days were lost to anxiety, depression or stress. Last year, the figure stood at 11,238.
"This figure is worryingly high," Mr Alston said.
"Clearly, the root causes of this increase must be properly understood and managed."
The most significant increase in days lost happened after the force launched an "organisational review", which led to job cuts and a restructuring, he said.