'Panic' as dog nearly thrown grenade to chase on Dovercourt beach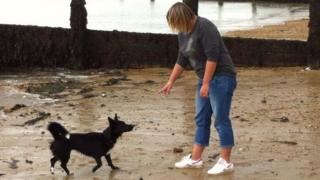 A woman has spoken of the moment she inadvertently picked up a wartime grenade while throwing stones for her dog to chase on a beach.
Clair Watson was playing with Bonnie at Dovercourt, Essex, on Sunday when she realised one pebble felt odd.
"I turned it around in my hand and realised it wasn't a stone, it was some sort of grenade because the top of it had a pin," she said.
"I panicked a bit because I thought 'if this goes off, I'm in trouble'."
Mrs Watson, 41, from Clacton, said: "I gently put it back down in the sand and kept my dog away from it.
"I said to another dog walker, 'Have you got a phone - I need to phone the police?'."
Shortly afterwards bomb disposal experts arrived and sealed off the area before taking the World War Two grenade away for detonation.
"It was quite scary and surreal. I was holding something that was technically extremely dangerous," said Mrs Watson.
The grenade was the fifth to be washed up in the area in the past five weeks.
Another grenade, found near West End Lane in Harwich on Saturday, was detonated by experts.
Three others were found near Lower Marine Parade in the town on 12 July.
Essex Police said a sunken wartime crate may have been disturbed, causing the grenades to appear on the beach.
The force initially reported that a man had been seen throwing the grenade on the beach, but a spokeswoman said no criminal investigation was taking place.
She advised beach-goers to be careful and said anyone who saw any suspicious items on Essex beaches should not touch them, but call the police.