V Festival in Essex: Seven arrests for selling 'legal highs'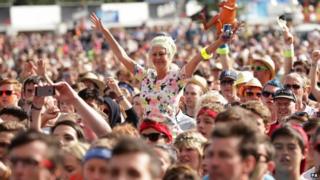 Seventy-two people were arrested, including seven for selling "legal highs", at this year's V Festival in Essex, police said.
The event at Hylands Park in Chelmsford was attended by 180,000 people.
Volunteers from St John Ambulance treated about 500 people over the course of the weekend. Ten people were taken to hospital.
Some 53 people were arrested for drug possession, three for theft, and one for assault.
Government scientists were also at the event, to analyse samples of "legal highs", including nitrous oxide, or laughing gas.
Three people at the event's sister site in Weston Park, Staffordshire, required urgent medical help on Saturday after taking blue tablets, known as Blue Ghost.
Chief Insp Jon Haytor from Essex Police said: "No one was arrested for using nitrous oxide, or laughing gas, but a number of arrests were made for supplying so-called legal highs.
"Some of those arrested were also in possession of other substances."
Equipment seized
Festival organisers said nitrous oxide and "legal highs" were banned from the event, and any substances found were confiscated.
An Essex Trading Standards spokesman said 10 festival-goers, who were caught with nitrous oxide, were ejected from the site.
Equipment, including balloons and gas canisters, was also seized.
Inhaling nitrous oxide is not illegal.
Essex Police said those selling the substance had been arrested on suspicion of administering prescription-only medicine, contrary to the Human Medicines Act 2012.