Essex beach hand grenade warning as dog walker throws one for pet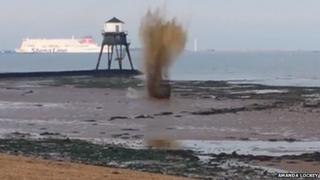 A dog walker was seen throwing a hand grenade for a pet to chase by an off-duty explosives expert, police said.
The grenade, found earlier and safely removed, is the fifth to wash up on a Harwich beach in the past five weeks.
Another grenade found near West End Lane on Saturday was detonated by experts and three others were found near Lower Marine Parade on 12 July.
Essex Police said a sunken wartime crate may have been disturbed, causing the grenades to appear on the beach.
"That crate might be breaking up or has been disturbed by dredging in the port, and has resulted in these five devices being washed ashore along the same stretch of beach," Insp Paul Butcher said.
The latest grenade was found earlier at Marine Parade. Once retrieved from the dog owner it was removed by bomb disposal officers.
Insp Butcher said people should be "vigilant" if visiting the beach and call the police if they found anything that could be an explosive.