V Festival scientists to test samples of 'legal highs'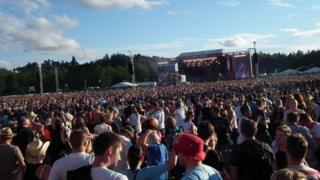 Government scientists will be at a major music festival this weekend to analyse samples of "legal highs", the Home Office said.
Tests will be conducted by researchers at V Festival in Hylands Park, Chelmsford, on Saturday and Sunday.
So-called "legal highs", including laughing gas, have been banned from the event for the last seven years.
The Home Office is launching a campaign to highlight the risks of the party drugs.
Researchers are aiming to gather information about which new substances are available in the UK.
Last year nitrous oxide, known as laughing gas - which it is not illegal to inhale - was the second most popular drug among young adults after cannabis.
More than 350 substances once classed as "legal" highs have been banned by the government.
'Won't be tolerated'
Scientists from the government's Centre for Applied Science and Technology will analyse samples of substances found at the Chelmsford event.
Ch Insp Jonathan Hayter of Essex Police said: "We want to remind festival-goers that psychoactive substances will not be tolerated and if anyone is found to be in possession of them they could be prosecuted and removed from the festival."
Last week, the Local Government Association issued a health warning about nitrous oxide and said councils were seizing large hauls of the drug.
Abusing the substance can lead to oxygen deprivation, resulting in loss of blood pressure, fainting and even heart attacks.
Crime Prevention Minister Norman Baker said: "All too often young people take their lives into their own hands by dabbling with so-called 'legal' highs when they don't even know if they are safe, let alone legal.
"Some of these substances are proven to be more dangerous than illegal drugs and it is vital that young people are informed about the risks associated with their use."