Sainsbury's signs 'too orange' for Frinton-on-Sea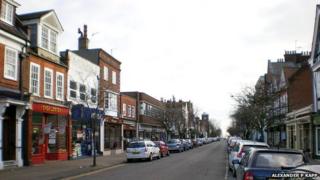 Sainsbury's says it will reconsider plans for a store in a coastal town after residents voiced their concerns about the firm's orange logo.
Frinton-on-Sea in Essex has its own shop front design guide which states that "colours should be muted".
As the Gazette reports, Sainsbury's is hoping to open a store in the town's Connaught Avenue, which in 2000 became home to the town's first pub.
But the town council has asked for its orange signage to be reconsidered.
The issue was raised when developers for the proposal - Millbrook Land - gave a presentation to Frinton and Walton Town Council.
The town council asked whether Sainsbury's would consider reverting to its original black and gold signage. Millbrook Land said it would take the council's views back to Sainsbury's.
Town councillor Mark Cossens said: "We are going to welcome Sainsbury's, it is wonderful they want to invest here. But you don't need to plaster it with the colour orange for people to know it is there."
A Sainsbury's spokesman said: "Some concerns were raised about our signage, but we are always careful to ensure that our stores are in keeping with their local areas, and we will consider the comments made by Frinton residents as we take our plans forward."