Essex police officer sacked for domestic violence form error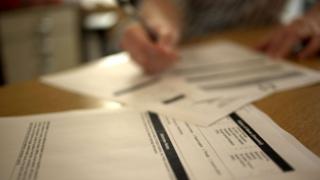 An Essex Police officer has been sacked over his handling of a domestic violence case which the force said could have ended in "the most tragic of circumstances".
The unnamed officer did not have the right form at the scene so filled in the correct one later.
Essex Police said it led to the victim being "incorrectly graded" as medium risk rather than high.
The officer was sacked following a disciplinary hearing on Wednesday.
All officers with the force have to complete a form called a DV1 which includes a number of risk assessment questions which help determine how cases are treated.
The force said the officer completed the form after leaving the scene "based upon some of the answers the victim had given him".
Assistant Chief Constable Maurice Mason said: "This matter is a serious breach of professional standards which resulted in a level of service and safeguarding that fell well below the standard demanded of police officers by the public of Essex and had the potential to result in the most tragic of circumstances.
"It was fortunate that this did not occur."
The sacking comes a day after a another police officer was sacked for lying about seeking work from two companies while suspended by Essex Police.