Leanne Meecham death: Stepfather guilty of murder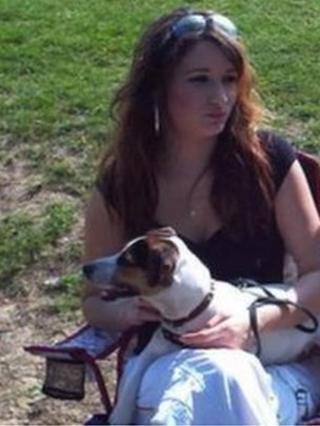 A man has been found guilty of the "violent and vicious" murder of his stepdaughter, who was also his former lover.
Leanne Meecham, 26, was stabbed at her house in Westcliff-on-Sea, in Essex, in February. She later died in hospital.
Her stepfather and former partner Simon Meecham, 43, was found guilty by a jury at Chelmsford Crown Court.
Judge Charles Gratwicke told him to prepare himself "for a substantial term of imprisonment".
He will be sentenced at a later date.
'Unprovoked attack'
During the trial, Meecham, from Rosewood Lane in Shoeburyness, told the jury he injured Miss Meecham by mistake, not realising he was holding a knife.
But Essex Police described the stabbing on 13 February as "a determined, focussed and wholly unprovoked attack" on a "defenceless" victim.
Miss Meecham died in hospital in London a week later.
A post-mortem examination found she suffered brain damage, caused by a lack of oxygen, after she was stabbed in the windpipe.
The court heard Meecham, who was previously married to Miss Meecham's mother Jane, had a serious alcohol problem.
Police had been called to disturbances at the house on Park Street on numerous occasions.
In January, he was arrested and pleaded guilty to common assault, leading to him and Miss Meecham splitting up.
'Jealousy and anger'
During the murder trial, he denied being controlling and threatening to kill his stepdaughter when she started a new relationship.
The prosecution said he was "motivated by jealousy and anger".
Det Chief Insp Mark Hall said Meecham "stabbed himself a number of times in an attempt to make it look like he was the victim" after leaving Miss Meecham's house.
"He later falsely claimed these injuries had been caused by Leanne, and then later claimed he had stabbed her accidently.
"The jury in this case have seen through those lies," he said.
Speaking after the trial, Miss Meecham's family said: "The past six months have been especially hard for us as we struggle to come to terms with how Leanne was taken from us.
"Despite the conviction of her killer, his term of imprisonment will never be sufficient punishment".
A domestic homicide review and an internal police investigation into the case, supervised by the Independent Police Complaints Commission, are now under way.