James Attfield death: Teen re-arrested in Colchester murder probe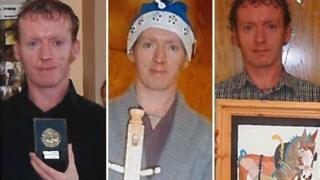 Police have re-arrested a teenager in connection with the murder of a vulnerable man found in a park with 102 knife wounds.
James Attfield was found in Castle Park off Guildford Road, Colchester, on 29 March.
An 18-year-old arrested last week has been re-arrested in Southend on suspicion of murder and is being questioned by detectives.
Nine people have been arrested in connection with Mr Attfield's murder.
Mr Attfield had suffered a head injury after a car crash a few years before he was killed.
Three men from Colchester, aged 27, 31 and 57, and three women, a 27-year-old from Colchester; a 25-year-old from Southend and a 23-year-old from Ipswich, are on police bail until 24 September.
Two other men, both 33 and of no fixed address, are also on police bail also until late September.
Essex Police have said the death of Mr Attfield is being investigated "in parallel" with the killing of a Saudi Arabian student Nahid Almanea, who was found stabbed 16 times in June, also in Colchester.