Essex fire authority £15m in debt because of accounting mistake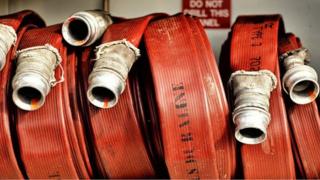 A fire authority has revealed an accounting mistake has left it with debts of £15m, relating to pensions for injured firefighters.
A shortfall of £1.8m a year has been building since 2006 and was "missed" in annual account audits.
The pension payments relate to firefighters who have left Essex's fire service since 1992 and have claimed early pensions because of injury.
The fire service said it would use its reserves to pay off the debt.
But it said "the potential for interest charges on top" would "challenge" managers to rethink future expenditure plans.
'Significant burden'
"Because of our prudent financial management over the last few years, we have built up significant reserves and we are in a healthy financial position and able to wipe out this debt immediately," said acting chief fire officer Adam Eckley.
"This is a significant burden but unlike other fire and rescue services that will likely face a similar financial challenge, the Fire Authority has the cash to pay while remaining financially sound," he added.
But Mr Eckley said the service would have to look to increase the amount of savings it makes.
"We had already set the target of delivering £5.9m of savings over the next few years, we now have to look for £7.7m," he said.
He said his aim was to "keep Essex safe while meeting budgetary demands."
An independent external inquiry has been commissioned to find out how the discrepancy was missed.
"While the Treasurer and Finance Director is clearly accountable, we are not looking for any scapegoats," said Mr Eckley.
"This was a genuine oversight by a number of parties and was brought to the Fire Authority's attention as soon as it was discovered."