Boxer Lee Purdy cleared of money laundering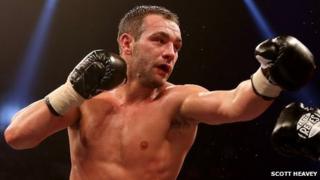 Boxer Lee Purdy has been cleared of money laundering as part of a £1m fraud by rogue traders to dupe the elderly.
It was alleged Mr Purdy, 27, cashed more than £15,000 of cheques through his bank account on behalf of his father and another man.
His father, Van Purdy, was among six sentenced last month for overcharging 42 victims for shoddy building work.
A jury at Chelmsford Crown Court cleared the boxer, of Greenstead Road, Colchester, by a unanimous verdict.
He had been charged with nine offences dated between 4 January 2011 and 24 August 2011.
His father's partner, Rachel Poole, 48, of Nursery Road, Ardleigh, was found guilty of seven counts of money laundering and bailed ahead of sentencing on 1 September.
'Thanks to everyone'
Poole, a registered nurse and manager of a care agency for 13 years, laundered a total of £11,650 between November 2010 and 23 January 2012, the court heard.
Prosecutor Andrew Shaw said a group of rogue traders cold-called on elderly people about work on their homes, which was either not carried out at all, done badly, not finished, or was not even necessary.
Although police and trading standards officers highlighted 42 victims aged 65 to 99, they believe the number of victims may have been closer to 140.
Following the verdict, professional welterweight Lee Purdy tweeted: "Thanks to everyone who stuck by me. Today I was found not guilty in money laundering charges in a unanimous decision by the jury.
"People should never be so quick to judge or make accusations."