Leanne Meecham death: Stepfather tells court 'I am not a murderer'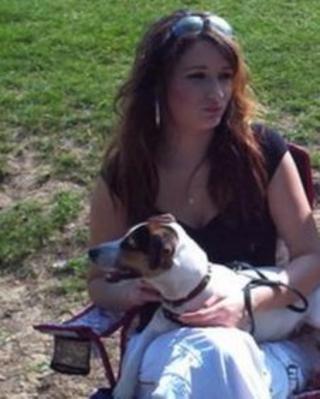 A man on trial for killing his stepdaughter who was also his former lover has told a court "I am not a murderer".
Leanne Meecham, 26, was stabbed at her home in Westcliff-on-Sea, Essex, in February. She later died in hospital.
Her stepfather and former partner Simon Meecham, 42, is on trial at Chelmsford Crown Court for her murder.
He told the jury he injured Miss Meecham by mistake, not realising he was holding a knife.
In the witness box, he said he had tried to kill himself after leaving her house in Park Street on 13 February.
"I was in a mess that morning, I was on a different planet", he said.
A post-mortem examination found Miss Meecham, who died on 20 February, suffered brain damage caused by a lack of oxygen, after she was stabbed in the windpipe.
The court heard Mr Meecham, who was previously married to Miss Meecham's mother Jane, had a serious drink problem.
Police had been called to disturbances at the house on Park Street on numerous occasions, the court heard.
In January, he was arrested and pleaded guilty to common assault, leading to him and Miss Meecham splitting up.
'Motivated by jealousy'
Asked by prosecutor Jocelyn Ledward if he respected his former lover, he replied: "Of course I did, she was everything a bloke could ever want."
But he added, "I didn't treat her right."
He denied being controlling, and threatening to kill her after she started up a relationship with someone new.
But the prosecution said he was "motivated by jealousy and anger" at her new relationship.
Defending counsel Craig Rush asked how sorry Mr Meecham was about what had happened.
"More sorry than you could ever believe," answered Mr Meecham.
The trial continues.