Colchester epilepsy sufferer's fit filmed by onlookers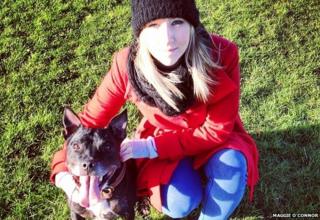 An epilepsy sufferer, filmed and mocked by onlookers while having a seizure, has said she wants to raise awareness of the condition.
Maggie O'Connor, 26, was walking her dog in the grounds of St Botolph's Priory in Colchester when she had a fit.
When she came to, she was being filmed by "two lads, poking fun" at her.
A Facebook post about her experience attracted "hundreds" of responses from epilepsy sufferers.
"My aim completely changed from when I initially put that status up, when I was angry," she told BBC Essex.
"I wanted to find the boys and for them to get into trouble, but as time's gone on, I've had hundred and hundreds of messages from people saying they have the same epilepsy as me and they don't go outside.
"I never realised how many people are stopped by their epilepsy," she said.
"It shocked me, and I thought my focus now is to get some more awareness of the condition and help these people feel safe outside. "
Stacey Rennard, from charity Epilepsy Action, said about 600,000 people in the UK had epilepsy.
There are about 40 different kinds of seizures and "some are easier to recognise than others".
Ms Rennard said: "In Maggie's case, it was very upsetting to hear she was in a vulnerable position and sustained an injury, and still people didn't stop and help her."
She said the charity hears about a wide variety of experiences: "Some good, and some bad, like in this horrible case.
"But we do hear from people who've come across the good Samaritans who've sat and waited with them while they recover."