Artillery shell hit by weeding Essex pub landlord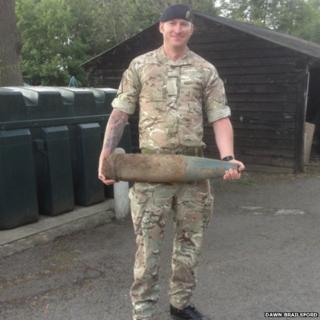 Bomb experts had to be called in after pub landlord hit an artillery shell twice with an axe while clearing weeds.
Mark Brailsford, who runs the King's Head in Ridgewell, Essex, dug up the weapon on Tuesday afternoon.
His wife Dawn said: "The bomb squad came from Colchester and said it was a practice shell, but some still have some charge in them.
"They said if we find another we shouldn't hit that with an axe." The pub was closed at the time, she added.
"My husband hit it twice with a pickaxe before levering it out of the ground. He knows a bit about military history so instantly recognised it as some sort of artillery shell," Mrs Brailsford said.
The couple said they did not think the shell was more that 30 or 40 years old and said they had no idea how it came to be buried in the pub garden.
Essex Police confirmed the couple had been in touch, and bomb disposal experts had been sent to the pub.
"They took it away but told us to get straight back to them if we find more, as they've had quite a few things found in the area," she said.
The couple took over the pub a year ago and have been renovating it for most of that time.
"We've only been open for three weeks, so it was very lucky we were closed that day and had no customers in as we would have had to evacuate everyone as a precaution," Mrs Brailsford said.