Clacton WW1 parade cancelled due to lack of marching band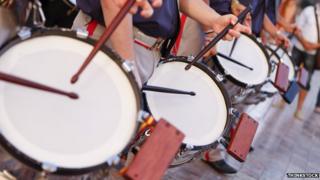 A parade to mark the centenary of World War One has been called off, because no marching band was available.
Organisers of the event in Clacton, Essex, on 3 August said the cancellation was "disappointing".
"We tried everything we could think of to come up with a band but were unsuccessful," said Tendring District Council vice chairman Fred Nicholls.
A service is still due to take place at the town's war memorial to mark the anniversary.
Jamie Robinson, parade marshal and vice chairman of Clacton Royal British Legion, had been trying to book a band since November.
'Another dimension'
He said he had approached more than a dozen groups but many of them were taking part in competitions or tours on the same date.
Mr Robinson said the service was always going to be the centrepiece of the event.
"The parade would have added another dimension but it wasn't to be," he said.
"I am sure the area around the war memorial will be packed out on Sunday as we gather to commemorate such an important date in world history."