James Attfield murder: Facebook mystery woman sought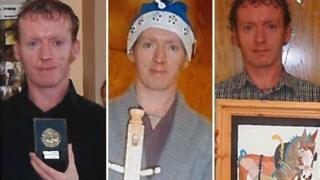 Police investigating the murder of a man found dead in an Essex park with 102 stab wounds want to talk to a woman mentioned on his Facebook page.
The "extremely vicious" murders of James Attfield in March and Nahid Almanea in June are being investigated "in parallel", Essex Police have said.
Both were attacked with knives in the town of Colchester.
Detectives also want to talk to anyone who has been in contact on social media with Mr Attfield.
Det Supt Steve Worron, of the Kent and Essex Serious Crime Directorate, said: "As part of the investigation into James' murder, officers have been reviewing his Facebook account.
"It appears he may have been in contact with a woman who went on holiday around the time of Friday, March 21 and was due back on the Saturday that he was killed.
"From posts James made on his page it is believed the woman likes dancing, pottery and may have sung karaoke with him. We would like this woman to contact the investigation team."
Mr Attfield, 33, of East Bay, Colchester, was found dead near Lower Castle Park in the town on 29 March. The father of five, who had suffered a head injury after a car crash, had 102 knife wounds.
Ms Almanea, 31, who had been studying at the University of Essex, was stabbed 16 times on the Salary Brook Trail on 17 June.
In relation to Ms Almanea's murder, officers need to trace a number of people who were on the Salary Brook Trail between 10:15 and 10:45 BST on Tuesday, 17 June, including:
• A tall man in a trilby style hat who was seen in the area around the time of the murder. He is described as slim and was wearing a long dark trench style coat.
• A white man, aged between 19 and 23-years-old, with blond hair who was wearing a back pack and white headphones.
• Two women on bikes, who were seen by the hedgerow on the Salary Brook Trail.
Det Supt Worron added: "We would also like to speak to anyone who uses the Salary Brook Trail on a regular basis to see if they have noticed anything different in the weeks since Nahid's murder."