Southend surgeon dies saving wife from heart attack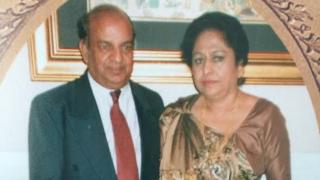 A former surgeon died trying to save his wife, who had suffered a heart attack in the swimming pool in their back garden.
Aqeel and Nayyar Saddique, 77, died at their Southend, Essex home last week.
Dr Saddique, 79, worked as a surgeon in Lesotho for more than 40 years, where he became friends with the country's royal family.
Their bodies were found by their son, Dr Haroon Saddique, who called his parents "wonderful people".
"We gained some comfort by the fact they didn't suffer. They passed away quickly, and they're together now. That's very important," he said.
Dr Haroon Saddique, who works as a GP, said he became concerned when he went round to his parents' house but there was no answer.
When he returned later and let himself in, he found their bodies in the back garden.
"My mother had suffered a heart attack in the pool. She died straightaway," he said.
"I think the exertion of my father trying to help her meant he had a heart attack as well."
His father, who was born in India, had trained and worked in Canada and Bury, Greater Manchester, before moving to the southern African kingdom.
He was awarded an OBE in 1978 for his work helping the people of Lesotho.
His wife, Nayyar, was described by her son as "the heart of the family".
The couple had returned to live in the UK in 2012, because of Dr Saddique's poor health.
"My sister and I, and their four grandchildren, have spent two fantastic years with them since they moved back," their son said.
"We want to celebrate their lives, because they were wonderful people and they did great things, and that's what we will remember most of all."
A spokesman for Essex Police said there were no suspicious circumstances and a file had been prepared for the coroner.