Clacton sea defence work to start with groyne demolition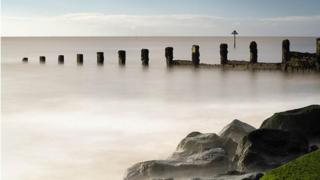 Work is due to start this week on a £36m coastal defence in Essex designed to protect 3,000 homes and businesses for 100 years.
Nearly 1m tonnes of sand and shingle dredged from a licensed offshore site will be placed on beaches between Clacton Pier and Holland Haven.
Rock to create 23 new groynes will be shipped in from Norway.
The first phase will be to demolish existing concrete and timber groynes in preparation for construction works.
Work will begin on Monday at Holland Haven and the beach will be closed off for safety reasons.
Nick Turner, Tendring District Council's cabinet member for environment and coast protection, said: "In about 18 months' time we will have coastal defences to protect more than 3,000 residential and commercial properties for the next 100 years.
"It will be a renaissance of our seafront. It is definitely more than just a coast defence scheme."