James Attfield knife murder: Police appeal to bench 'couple'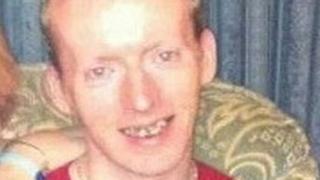 Police investigating the murder of a vulnerable man in an Essex park, have urged a man and a woman seen sitting on a bench in the park to come forward.
James Attfield was found with 102 knife injuries in Castle Park, Colchester, on 29 March.
Police say a couple seen on a bench on the night of the murder might hold important information.
Det Supt Steve Worron said the pair might have "had an argument earlier in the evening and so were sitting apart".
It was also possible, he said, that the man and woman, who are described as white, were sitting apart because they did not know each other.
They were seen on the bench at about 23:30 BST on 28 March. The man is said to be of stocky build.
Addressing the pair, Det Supt Worron said: "You may be worried or don't want to get involved but please don't turn a blind eye."