Canvey Island flood pumps 'taken out by lightning'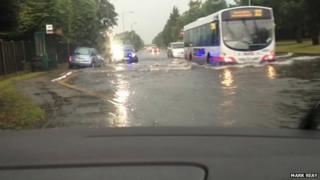 A pump system on a flooded island was knocked out of action after it was struck by lightning, it has emerged.
More than 200 homes were flooded on Canvey Island in Essex after 2.3in (6cm) of rain fell on Sunday.
The Environment Agency said the pump system had been out of action for 12 minutes after a lightning strike.
But some people on the island said the pumps were out of action for longer and Castle Point MP Rebecca Harris has demanded an investigation.
The island's pumping system - replaced in 2005-06 at a cost of about £7m - works by lifting flood water up over the flood wall and depositing into the Thames Estuary.
David Kemp, the Environment Agency's flood resilience team leader, said the pumps were not working for 12 minutes after the lightning strike until back-up generators came on.
He said the issue was not the pumping system but the amount of time it took flood water to make its way through the drains to the pumps.
But Ray Howard, Castle Point Borough Council's cabinet member responsible for flooding, disputed the Environment Agency's account and said the pumping system was out for considerably longer.
"The pumps were not working after the lightning strike", said Mr Howard, a Canvey resident who also sits on the regional flood and coastal committee.
"The technicians had to come to reset the pumps and the technicians could not get there. I say they were out for a lot longer."
Mrs Harris, the Conservative MP, said: "If the pumps can go out like that then that has huge implications for Canvey in the event of a tidal surge or whatever.
"There needs to be a thorough investigation."
Paul Masters was earlier recovering the bodies of thousands of pounds worth of dead carp after flood waters killed the fish he inherited from his father.
Twenty have died and a further 30 are at risk after flood water contaminated their pond.
Two flood warnings remain in force for England. These are at Crostwick in Norfolk and for the River Roach, Prittle Brook and Eastwood Brook at Southend.
A spokesman for Essex Fire and Rescue Service said the "areas hit by floods in Essex included Wickford, Waltham Abbey and Rayleigh, though flood related incidents came in from right across the county".