In pictures: Lightning storms across East Anglia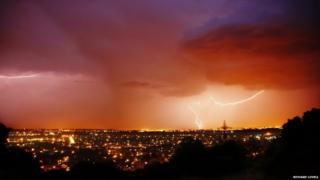 Spectacular storms have once again illuminated the night sky in Essex, resulting in firefighters attending three homes that struck were by lightning.
Peter Sloss, duty forecaster at BBC Weather, said: "The storms were at their heaviest as they arrived from across the English Channel and interacted with the high temperatures we saw yesterday for another explosive burst of energy, resulting in more serve storms.
"Over the period of Friday evening we saw several thousand lighting strikes across the south and east of England."
BBC Look East's viewers have shared their images of Friday night's storms across East Anglia.
The Met Office said a very warm and humid air mass across the UK would become "increasingly unstable", leading to more intense thunderstorms.
There are amber weather warnings for rain in place for most of England and Wales.
Forecaster Jim Bacon, from Norwich-based Weatherquest, added: "Last night's storms were a classic example of what can happen when storms develop in such warm, humid, air.
"Temperatures in excess of 30C meant the storms were potentially severe with frequent lightning and torrential rain in some places. The heaviest rainfall figures in the East were in the order 18mm at Shoeburyness, Essex.
"There's a continued risk of heavy thunder showers developing or other storm moving in from the continent overnight - but next week looks to be feeling cooler and less humid."