Nahid Almanea and James Attfield murders: Weapon link cannot be established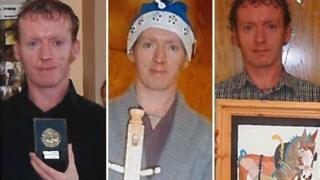 Wounds inflicted on two people murdered in the same town were so "vicious" police cannot tell if the same weapon was used, it has emerged.
Essex Police are investigating the murders of Nahid Almanea in June and James Attfield in March "in parallel".
Both were attacked in Colchester. Police say the two murders have both similarities and differences.
Det Ch Supt Steve Worron said both murders were "extremely unusual" and "extremely vicious".
"It is not possible from the post mortem (examinations) alone to conclusively say whether the same weapon was used in both cases," he said.
Mr Attfield, 33, of East Bay, Colchester, was found dead near Lower Castle Park in the town on 29 March. The father-of-five, who had suffered a head injury after a car crash, had suffered 102 knife wounds before he died.
The 31-year-old Ms Almanea, who had been studying at the University of Essex, was stabbed 16 times on the Salary Brook Trail on 17 June.
Det Ch Supt Worron said he "would be very surprised" if somebody close to the person or people responsible for the two killings were unaware of what they had done.
Six officers remain in Saudi Arabia to support Ms Almanea's family, liaise with the Saudi authorities and build up a "fuller picture" of Ms Almanea's life.