Nahid Almanea: CCTV near Colchester murder spot 'not working'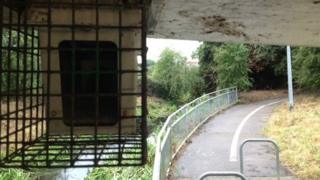 Detectives have been unable to view CCTV footage from the area where a Saudi Arabian student was murdered because cameras were not working.
Nahid Almanea, 31, was stabbed 16 times on Salary Brook Trail in Colchester, Essex, on 17 June.
A security camera in a nearby underpass was not in use, the Safer Colchester Partnership has confirmed.
Police said they were working with the evidence available, rather than wondering what they could have had.
The organisation said footage from another camera in the Greenstead area had been used by detectives.
A camera was installed in the Clingoe Hill underpass, often used by students to access the University of Essex, in 2007.
"Following severe flooding damage, the camera was not brought back into operation as additional funding was not available to resource the extensive maintenance costs," said Pamela Donnelly, chair of the Safer Colchester Partnership, which now operates some of the cameras.
Det Chief Supt Steve Worron, from Essex Police, said the force "obviously needs the best CCTV images it can get", but it could only work with the evidence available.
Meanwhile, Essex Police revealed they have sent a team of officers to Saudi Arabia to build up a picture of Ms Almanea's life there and liaise with her family.
The University of Essex student had been in the UK for less than a year.