Giant egg 'discovery' scares Halstead school children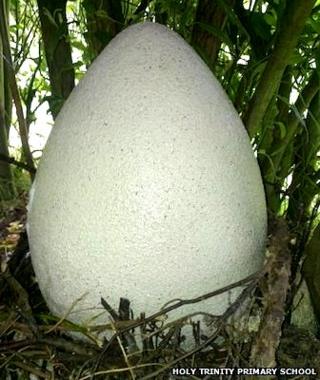 A head teacher has apologised after a 3ft (90cm) fake egg designed to aid learning ended up scaring pupils.
The egg was part of a project which aimed to encourage group discussion at Holy Trinity Primary School, Halstead.
Headmaster Jon Smith told parents there had been an "amazing discovery" and the egg had been "cordoned off".
But an apology was issued after it emerged some had been "worried by it" and one parent posted on Twitter that their children had been "in tears".
The 250-pupil school, praised by Ofsted for making children feel safe, initially told parents how an investigator had been sent in by the fictitious "National Museum of Strange Objects".
Children were to "remain vigilant and put all their energies into research", parents were told.
While some took to Twitter to complain about the egg, other parents supported the school by saying it had been a "brilliant idea".
In an update for parents, Mr Smith said: "It has come to our attention that whilst the vast majority of the children at school were excited and engaged by this 'discovery' there are some who have been worried by it."
He said an extra whole school assembly was held.
"We made it absolutely clear to everyone that the egg was of no danger to anyone," he said.
"We apologise if that message did not come through sufficiently."
The egg was used as part of a week-long series of lessons which, Mr Smith said, had proved to be a "very successful way of promoting problem solving, teamwork and group discussion".