Bradwell Power Station nuclear discharge 'experiment' fear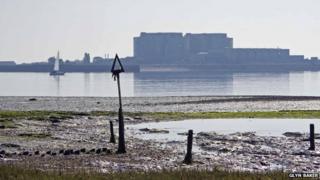 Campaigners have called for discharge from a decommissioned nuclear power station to be stopped, claiming the area is being used for an "experiment".
Magnox, which runs Essex's Bradwell power station, is releasing treated liquid into the River Blackwater.
Marine scientist Tim Deere-Jones said there were concerns over the radioactive materials released.
The Environment Agency, which granted permission, and Magnox said the process was safe.
But Mr Deere-Jones called for discharges to be stopped and an inquiry set up to look at the process.
Protest groups Blackwater Against New Nuclear Group (BANNG) and parents' group Blackwater Guardians have been set up to fight the discharge.
Mother-of-two Tracey Jones, one of the founders of Blackwater Guardians, said: "We feel very much like we're part of an experiment - the collateral damage could be our children. They (Magnox) don't know how much radiation is going to hang around."
The groups are concerned that the new process is using nitric acid, a highly corrosive substance, to treat spent radioactive material from the plant.
Mr Deere-Jones, who has worked as a consultant for Greenpeace and the World Wildlife Fund, said it was different to a dissolution process used at another decommissioned plant, in Dungeness in Kent.
"Bradwell is a guinea pig," he said.
He said the difficulty with investigating the dangers of radiation was that "any health effects won't show for many years".
A Freedom of Information request to Magnox found the discharges to the sea could contain 20 types of radioactive material.
Two of the elements - plutonium and americium - emit alpha radiation, which is dangerous if ingested or inhaled.
Magnox said the process was "based on the safe and successful dissolution experience elsewhere".
Charles Beardall, Environment Agency area manager, said: "We are confident that discharges from the site are safe."