'Boudicca bones' found under Colchester department store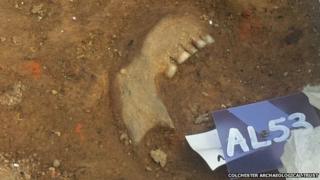 Human bones which date from the time of the "Boudiccan Revolt", have been discovered underneath a department store in Colchester.
The jaw and shin bones were found during redevelopment of the Williams and Griffin shop on the High Street.
Experts said they dated from AD61, when Boudicca's British tribes burnt down the town to try to free themselves from Roman rule.
Bones from this period have only been found once before in Colchester.
Philip Crummy, director of the Colchester Archaeological Trust, said the bones were "likely to be the remains of people who died in buildings set on fire by the British, as they overran the town."
They were found in burnt building debris, used to raise up the main north-south Roman street, during the rebuilding of the town.
Mr Crummy said: "The discovery of human remains is extremely rare.
"The first was made in 1965 during excavations on a site off West Stockwell Street.
"The fact that the two sets of bones lay relatively close to each other, and the absence of bones in the southern and western parts of the town, suggests that a lot of the inhabitants took refuge in this part of Colchester," he said.
The unearthing of the bones is "not expected to impact significantly on the construction schedule", according to the store's owner.