Colchester Hospital admits failings over meningitis girl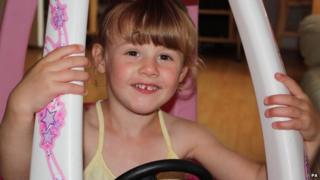 A nine-year-old girl who will need lifetime care because of delays in treating her meningitis as a baby has been awarded a £5.5m compensation package at the High Court.
Colchester Hospital apologised for failings in procedures which could have led to Ellie Sutton fully recovering.
Aged eight months, she was discharged by hospital staff despite her having a high temperature.
Ellie, from Witham, was left with brain damage and also suffers from epilepsy.
Her family's lawyers said the paediatric unit at the hospital had failed to follow its own guidelines.
These recommend that any child with a temperature of more than 38C should be kept in and monitored hourly.
Ellie was discharged shortly after arriving, despite a recorded temperature of 39.9C.
Her mother, Sarah, took her back to the hospital later and the doctor recommended that her condition was investigated further.
A medical review was not conducted until the ward rounds 11 hours later.
Proud of daughter
Colchester Hospital University NHS Foundation Trust admitted that without the delays in treatment, Ellie would have made a full recovery.
A £2.4m lump sum and lifelong annual payments rising to £119,000 will cover 24-hour care, therapies, specialist equipment and adaptations at home.
Judge Anthony Seys-Llewellyn told the Suttons: "In a way this is the most painful day for you, because you have been thinking about what was intended to be.
"But it is also the most reassuring day, I hope, as, in so far as money can make a difference, it will make Ellie secure."
Her mother Sarah Sutton said: "We were devastated when we found out that Ellie had suffered brain damage and even more heartbroken for her when we found out her condition could have been avoided had simple errors not been made.
"To watch our daughter struggle with everyday life is devastating on our family.
"We put our trust in the professionals and they do fail - leaving disastrous consequences.
"Nobody will know your children like you do and with meningitis, every second really does count.
"Ellie is an amazing little girl and we are very proud of her determination."