Broomfield Hospital nurse Ide Warren suspended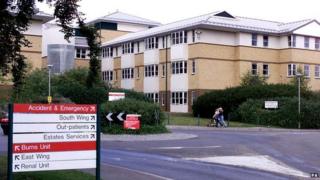 A nurse left a syringe full of drugs on a patient's bed and gave one patient another person's medication, a conduct panel has heard.
Ide Warren, who worked for the Mid Essex Hospital Trust, has been suspended for 12 months by the Nursing and Midwifery Council.
She was given an interim suspension order in 2012 and has now admitted eight charges.
Her "fitness to practise" was found to be impaired by a "lack of competence".
Ms Warren worked first as a healthcare assistant and then as a staff nurse at Broomfield Hospital in Chelmsford between March 2011 and February 2012.
Other charges she admitted included trying to give insulin to someone who was already being given the hormone and leaving a patient on a bed pan in a wet bed for 20 minutes.
In a report, the conduct and competence committee panel, chaired by Barbara Stuart, decided she should be suspended in order to "protect the public".
Her "lack of competence in relation to even the most basic of nursing skills" brought nursing into disrepute, the members said.
"The panel considered that risk of repetition is high and that you are liable in the future to put patients at unwarranted risk of harm," the report said.