Nahid Almanea Colchester murder inquiry e-fit released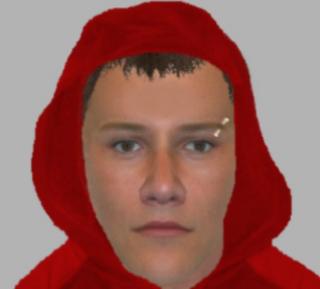 An e-fit has been released of a man police want to speak to over the murder of a Saudi Arabian student in Essex.
Nahid Almanea, 31, was found with 16 stab wounds on a path near Avon Way in Colchester on 17 June.
The man, described as white and aged 18 to 25, was seen running up nearby Hewes Close at 10:56 BST.
Police said he was of medium build with dark hair and was wearing a long-sleeved plain hooded top in "London bus red" and dark trousers.
He had a piercing in his left eyebrow.
Ms Almanea had been walking to the University of Essex, where she was studying an English language course.
Police said they were still trying to trace people seen on the Salary Brook Trail path between 10:00 and 10:40 BST on the day of the stabbing.
They are:
A white woman in her early 20s with light brown hair, about 5ft 7in (1.7m), who was wearing a summer dress and a denim jacket,
A white man, aged 19 to 23, with blond hair. He is believed to be English and was wearing a backpack and white headphones.
A white man, thought to be a student, who had dark, short hair. He was wearing light trousers and was using a phone.
A black man wearing a dark blue and yellow striped polo top, a forward facing cap and a backpack.
Crimestoppers has offered a reward of £10,000 to anyone with information that would lead to the arrest and conviction of those responsible for the murder of Ms Almanea.