Ryanair Stansted airport collision pilots 'flying as normal'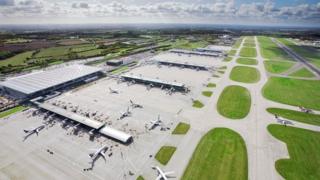 Pilots involved in a collision at London Stansted Airport are "flying as normal", their employer has said.
Two Ryanair jets were damaged when they collided on the ground at London Stansted Airport on Saturday morning.
The Air Accident Investigation Branch (AAIB) is investigating what happened.
A spokesman for Ryanair did not confirm whether either pilot faced disciplinary action as a result of the collision but did say both had resumed their duties.
It is understood one plane was approaching the stand and the other was "pushing back" when the collision happened.
Ryanair said the wing-tip of one plane and the tail-cone of another "made contact".
No passengers or crew were injured. Essex Police conducted "routine breath tests" on both pilots, but there was no evidence of alcohol consumption.
The crash involved a plane heading to Warsaw and an aircraft from Frankfurt Hahn that had just landed. Both were Boeing 737-800 models, which can carry up to 189 passengers.