Colchester 'love' text teacher Andrew Bell found guilty by panel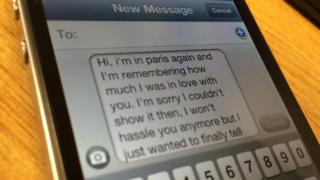 A teacher who sent a text message to one of his pupils saying he was "in love" with her has been found guilty of "unacceptable professional conduct".
Andrew Bell, 50, was dismissed from The Sixth Form College in Colchester last year following a complaint.
The history teacher admitted emailing and texting a pupil, despite requests not to do so from her mother.
A conduct panel has found his actions may have brought the profession into disrepute.
The National College for Teaching and Leadership panel heard the student had been on a trip to Paris coordinated by Mr Bell.
A report said after that she "became distanced in history and archaeology lessons", prompting her mother to ask Mr Bell to "avoid one-to-one contact".
In four text messages, Mr Bell asked the student to go for coffee with him.
One text began: "I'm remembering how much I was in love with you".
A spokesman from The Sixth Form College in Colchester said the issues related to professional misconduct and it was not required to report them to police.
The panel, which met in Coventry, will now make a recommendation to the education secretary regarding Mr Bell's future, but could give no further details.