Duckpond FC celebrates league win with open top bus and plane banner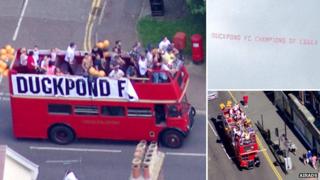 A Sunday football team has celebrated winning its league with an open top bus parade and a flypast banner.
Duckpond FC spent £1,400 on marking their success in the Colchester and District Sunday League Division One.
Player-manager Michael Hammond said it was the third year in a row the team had gained promotion and each year he wanted celebrations to get bigger.
"Next year we're going to have a bus, a plane, a boat and some sort of parade of animals," he said.
Mr Hammond said the team had "chipped in" towards the cost of Saturday's celebrations but he was happy to make up the rest of the money.
Half of the funds had been spent on the plane and banner, which read "Duckpond FC Champions of Essex".
Mr Hammond said publicity around last year's celebratory bus parade around Harwich had helped attract new players to the club.
"Everyone knows, if you play for us, that's what you get at the end of the year," he said.
"It gives us an edge on other teams, no-one else has a party like we do."
The club formed in 2011 and is named after Cox's Pond in Harwich.
Mr Hammond, who has set his sights on winning the cup next season and finishing in the top three of the league, said the celebrations were met with enthusiasm by people in Harwich.
"They love it," he said. "They all come out and give us a wave."
The Duckpond FC banner was flown over Harwich by Simon Moores of Kent-based Airads, who was also responsible for flying the 'Moyes out' banner over Old Trafford.