Colchester murder: Police appeal for calm after threats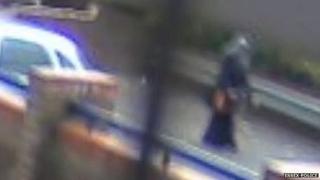 Police are investigating threats of revenge attacks following the murder of a Muslim PHD student in Essex.
Saudi Arabian national Nahid Almanea was found stabbed to death on a footpath off Avon Way in Colchester on Tuesday.
The 31-year-old had been in the UK for less than a year and was studying at the University of Essex.
Essex Police is investigating whether she was targeted because of her religion.
A 52-year-old man arrested has now been "positively eliminated from inquiries".
Ms Almanea, described by her university as a "very intelligent" student, was wearing a Muslim abaya robe and a multi-coloured hijab headscarf when she was killed.
There are other possible motives, police say, but they are calling for calm, saying they are aware threats of revenge attacks have been made on social media and are investigating them.
Nick Alston, Essex Police and Crime Commissioner, warned connecting the murder of Ms Almanea with her religion risked "stirring up tensions" and was "irresponsible".
"Jumping to those conclusions is dangerous and wrong," he said.
"She was a guest in our country. I can't think of anything worse than having a family member killed overseas."
Ms Almanea had been studying an English language course as part of her studies for a life sciences PhD.
Officers said she lived with her brother and would normally walk to university with him.
Because he had earlier lectures that day, she was walking alone.
Police said the fact she was stabbed multiple times bore "obvious similarities" with the murder of James Attfield, a vulnerable man with brain damage, who died after being stabbed more than 100 times in a park in Colchester in March.
But they remain separate investigations, police said.
CCTV images of Ms Almanea's last movements have been issued in the hope of encouraging witnesses. A picture of the bag she was carrying and a map of the route she was likely to have walked have also been released.
The University of Essex said she was a "very hard-working and conscientious" student and was due to finish her studies in August.