Queen's vintage silk evening dress to be auctioned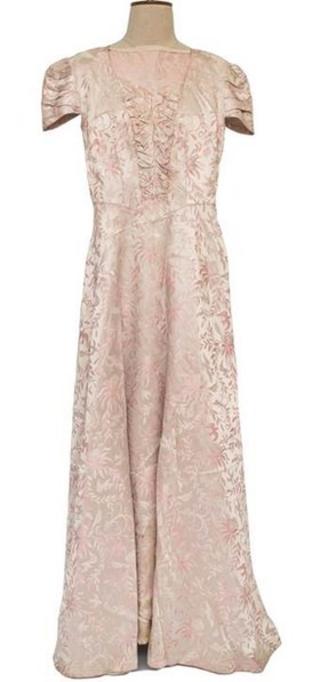 A 1940s silk evening dress, which once belonged to the Queen, is to be sold at auction.
The pale pink dress was worn by the young Princess Elizabeth before she became Queen.
It was given by the princess to Kathleen Ward, who worked at Clarence House as a telephonist, first for Queen Elizabeth and then her mother.
The dress will be sold on Tuesday in Colchester is expected to fetch between £1,000 and £1,500.
In 1961, Miss Ward told Woman's Own how she came to own the dress, which features features a pink floral pattern.
'Infallible provenance'
A copy of the magazine article is being sold with the dress, along with her letters of engagement to the royal household, a job reference and other items including letters signed by Gp Cpt Peter Townsend.
A spokesman for Reeman Dansie Auctioneers said the dress came with "an infallible provenance".
Last year, the same auction house sold a tie once owned and worn by Diana, Princess of Wales.
The Escada silk tie, decorated with elephants, was gifted by Diana to the children of a friend in 1995 for their father to wear to a job interview. It made £4,000.