Rayleigh woman's £45,000 High Court fight over homes plan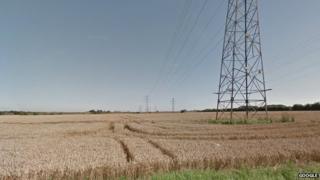 A woman has spent £45,000 of her savings taking a legal battle against housing plans to the High Court.
Rochford District Council has approved proposals for hundreds of new homes on green and brownfield land.
Linda Kendall and the Rayleigh Action Group, of which she is the leader, claim most residents are against it.
The council would only confirm it would be defending itself against the legal challenge.
The action group claims more than 10,000 people have signed an objection to the local authority's proposals and that 93% said they were unaware of what was being put forward.
Mrs Kendall, 66, ran an import company until she was aged in her 40s and has used her savings on the legal fees involved in the case,.
She told BBC News she wanted to "right a wrong."
She claimed she was not entirely against new housing, just the proposed locations spread across the Rochford district.
'Unjustified despoiling'
"There are brownfield sites they could have chosen," she said.
"They didn't have to choose vast swathes of green belt as you enter our town. It's the last vista as you come into Rayleigh.
"Some areas of Rayleigh suffered massive flooding last year - and the reason for that flooding was overdevelopment close to the site they are now talking about."
Of the judicial review, Mrs Kendall said: "This case has wide ranging importance to any protest group or any resident challenge to unjustified despoiling of our countryside."
In online planning documents, the council said it involved the community in development of the housing plans, through exhibitions, public meetings, workshops and a free newsletter that was mailed to nearly every household in the area.
It has also included plans to build a new primary school, youth facilities and a travellers' site, as well as improving infrastructure.