Police injured as '100 youths fight' at Rowhedge regatta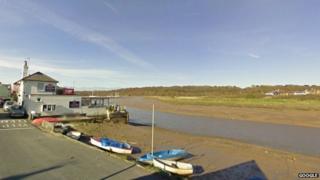 Three people were arrested and two police officers were injured as about 100 young people had a fight at a village regatta, police said.
One police officer was kicked and another received hand injuries during the "large disturbance" in Rowhedge, Essex, at about 18:00 BST on Saturday.
DS Nick Eliot said a "large number of young people" had gathered and were drinking after the regatta.
"One of them received a broken wrist," he said.
'Giggle juice'
He added: "We believe people may have filmed the incident on their mobile phones or taken photos.
"I would urge anyone that does have any footage to get in touch with officers at Colchester CID."
Police said fights had broken out in the car park of the village hall, on Rectory Road, and near the basketball court.
People on Twitter expressed their shock at the scenes, with Jim Hume saying: "Anarchy in Rowhedge this evening. Silly youngsters not able to handle their giggle juice. Dogs, tazers, pepper spray and a large chopper."
Mike Lilley added: "They were out of control and over 50 plus taking on 20 Police Officers it was madness."