Colchester Hospital: nurse arrested and employee suspended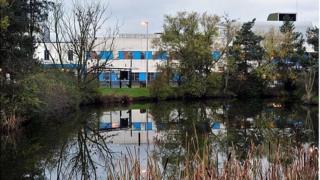 A nurse has been arrested on suspicion of stealing controlled drugs from a hospital.
Colchester Hospitals trust referred the matter to Essex Police following incidents at Essex County Hospital and Colchester hospital.
The 41-year-old from Dunmow has been released on police bail until 17 July.
In a separate matter, the hospital has suspended an employee as part of its investigation into alleged bullying and falsifying waiting time data.
This latter case relates to the findings of an internal review into alleged "inaccuracies" with its cancer data. Police are also investigating.
The employee was suspended amid allegations of bullying and harassment and alleged manipulation of endoscopy and dermatology waiting lists.
'Wrong to prejudge'
The hospital has not identified the suspended employee or released details as to their position within the organisation.
Dr Lucy Moore, the trust's chief executive, said: "It would be wrong to prejudge the outcome of the disciplinary process but it is important to stress that nothing is more important to us than the safety and wellbeing of those we care for.
"We will now conduct a wider review and we will be open and transparent as we proceed taking all necessary steps to ensure ongoing patient safety."
The trust received its review report just over two weeks ago. The employee was suspended on Thursday.
The hospital would not comment on the nurse's arrest.
However, the board on Thursday was told of a number of incidents in which "controlled drugs [had been] tampered with" since January.